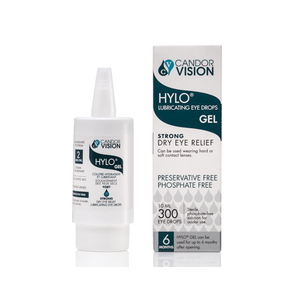 HYLO™ eye drops contain the sodium salt of hyaluronic acid, a substance found naturally in the eye and other parts of the body.
HYLO™ is a preservative free drop that does not easily rinse off the eye.  It is long lasting and can be used with contact lenses.  It contains 1mg/mL Sodium Hyaluronate which gives it the moisturizing properties and positive impact on dry eye symptoms. 
HYLO® Gel
Offer STRONG and long lasting dry eye relief

Provides intensive lubrication of the surface of the eye

Is preservative and phosphate free

Can be used for up to 6 months after first opening.
HYLO®Gel For the intensive, therapeutic lubrication of the ocular surface in more severe and persisting dry eye symptoms and for treatment after surgical procedures.

HYLO®Gel forms a regular, stable, long lasting lubricating film on the eye surface. This film is not easily rinsed off and does not cause blurred vision. HYLO®Gel provides long-lasting moisture to the surface of the eye to efficaciously support the natural process of healing.