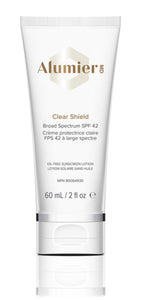 Call us or email us at 416-924-9210 drpal@yorkvilleeyeinstitute.com to order and have it shipped directly to your home or we offer curb side pick up.
A lightweight, non-comedogenic, 100% physical broad-spectrum facial sunscreen.
TRUST THE EXPERTISE OF A PROFESSIONAL 
Dye Free
Paraben Free
Sulfate Free
Phthalate Free
Animal Cruelty Free
Artificial Fragrance Free
Chemical Sunscreen Filter Free
Clear Shield Broad Spectrum SPF 42 is a lightweight, non-comedogenic, quick-drying physical sunscreen that provides powerful broad-spectrum protection against harmful UVA and UVB rays using a combination of zinc oxide and titanium dioxide. Niacinamide soothes and sodium hyaluronate hydrates.
60 mL / 2 fl oz e