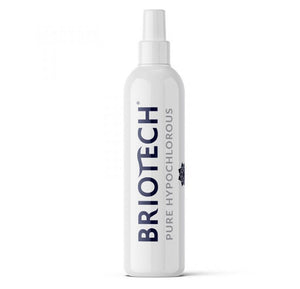 Briotech® Pure Hypochlorous (HOCL)
Hypochlorous Spray helps patients with blepharitis and may enhance natural protection to bacterial and viral pathogens in the environment.

USES:
Dry eye
Blepharitis
MGD
Demodex
Sties
Rosacea
Acne
Sunburns
Open wounds
Other applications as needed
INGREDIENTS:
Pure hypochlorous acid (HOCL) .02%
Electrolyzed water (H2O)
Sodium chloride (NaCl)
DIRECTIONS:
Shake bottle gently and spray on open or closed eyes. Alternatively, soak and apply with a sterile cotton wipe in a horizontal motion across eye lids. Air dry. No rinsing necessary.
BRIOTECH® PURE HYPOCHLOROUS is the world's first hypochlorous solution certified pure and thermally stable. It is naturally produced by the body and mimics the essence of human healing.  Safe to use on pets.
HOCL is an important component of our internal defense system that helps defend our bodies against infectious agents, like bacteria and viruses, by fighting infection. When produced outside the body, HOCL works in the same superior, safe and effective manner to eradicate pathogens.
100% all natural – preservative free
Prescription strength
Hypo-allergenic and non-irritating
Safe for skin and mucosal contact
Free of alcohol, oil, fragrance, sulfates, parabens and other preservatives