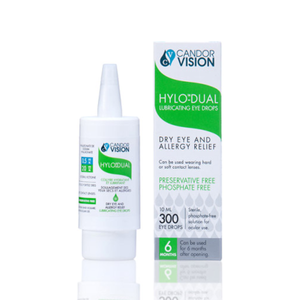 Hylo-Dual is both a soothing moisturizer and an anti-allergy relief drop.  Dry eyes as well and buring and itchy sensations caused by inflammation and allergies are both resolved with this one drop. 
Hylo Dual is made from Sodium Hyaluronate and Ectoine. There is n sting on insertion, it's natural and preservative free.   

Ectoine is a natural substance formed by microorganisms designed to protect the eye from allergens.  It also add mosture to the drop, spread evenly over the surface of the eye and protect tears against evaporation.
It can be used 2-4 times a day.  Once open it is good for 6 months.