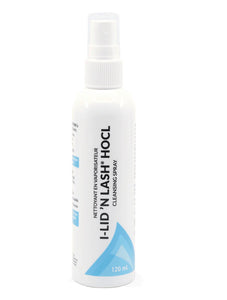 I-LID 'N LASH® HOCL Cleansing Spray
A convenient ocular cleansing and hydrating spray formulated with 0.02% pure HOCl for lids and lashes.  Used daily, and in combination with I-LID 'N LASH® wipes or pump, I-LID 'N LASH® HOCL CLEANSING SPRAY cleans and hydrates the eyes to maintain optimal lid and lash health.  Cleans and hydrates the eyelids and eyelashes. No need to rinse or wipe off!
What makes I-LID 'N LASH® HOCL CLEANSING SPRAY the optimal HOCl spray on the market?
It is manufactured in Canada.
It is the ONLY

 

HOCl spray manufactured by a company specializing in dry eye – I-MED Pharma
It is the ONLY

 

HOCl spray made in a Health Canada licensed facility following strict GMP guidelines.
Product Size: 120 mL (4 fl oz) spray bottle

Hypochlorous Spray helps patients with blepharitis and may enhance natural protection to bacterial and viral pathogens in the environment.

USES:
Dry eye
Blepharitis
MGD
Demodex
Sties
Rosacea
Acne
Sunburns
Open wounds
Other applications as needed
INGREDIENTS:
Pure hypochlorous acid (HOCL) .02%
Electrolyzed water (H2O)
Sodium chloride (NaCl)
DIRECTIONS:
Shake bottle gently and spray on open or closed eyes. Alternatively, soak and apply with a sterile cotton wipe in a horizontal motion across eye lids. Air dry. No rinsing necessary.