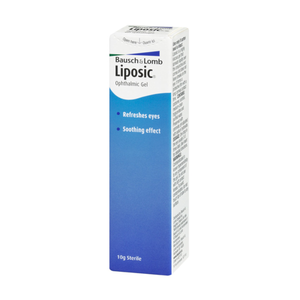 Liposic Ophthalmic Gel is a highly viscous, clear gel that spreads rapidly over the conjunctiva and cornea leaving no streaks on the eye. The gel improves the moistening of the ocular surface in the presence of irritation, burning or tiredness of the eyes.
For persistent dry eye - day and nighttime use
Benefits:
Only gel that replicates all three layers of the tear film
Highly viscous, clear gel for mild to severe dry eyes
Provided long-lasting relief without blurring
Average pH of 7.4 similar to natural tears
Dosage: One drop in the eye 3-5 times daily.   Apply 10-15 minutes prior to inserting contact lenses
Contents: Carbomer 980, Cetrimide, Sorbitol, Medium-chain triglycerides, sodium hydroxide (for pH adjustment), purified water.
Package Size: Preserved Multi-dose 10 g tube