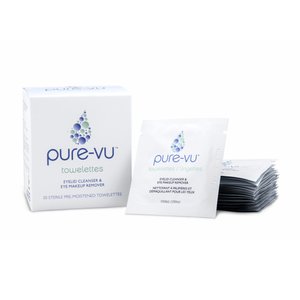 PURE-VU™ Towelettes are designed to designed to remove debris, dust, bacteria and makeup from the eyelids, eyelashes and lid margins.
They are sterile, gentle, hypoallergenic and non-irritating cleansing pads for daily eyelid hygiene and eye make-up removal.

30 Pre-moistened cleansing wipes per box.  

Combine with your current makeup cleansing routine for optimal lid hygiene.