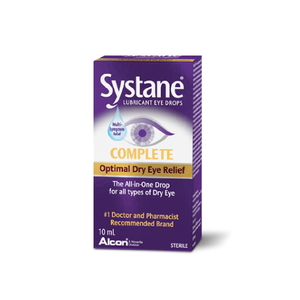 Systane®
 

Complete Lubricant Eye Drops
An all-in-one drop for all types of dry eye
There are many forms of dry eye.  Systane Complete is designed to provides optimal, effective and long-lasting relief of symptoms of all forms; such as burning, irritation, dryness, itching, stinging, grittiness or blurriness due to dryness of the eye. It provides extended hydration and protection to all layers of the tear film.
Each drop of NEW SYSTANE® Complete is made up of tiny, nano-sized oil droplets which combined with key ingredients, form a matrix of protection and deliver soothing moisture across the eye surface. This enhanced network of coverage provides prolonged hydration and lasting protection for optimal dry eye relief.
How to Use:
SYSTANE® COMPLETE Lubricant Eye Drops has a slightly white appearance prior to application.  It is not to be used with contact lenses. It may be used prior to inserting contact lenses and after the removal of contact lenses. Shake well before using. Instil one or two drops in the eye(s) as needed and blink.eyes.
Ingredients:

SYSTANE® COMPLETE Lubricant Eye Drops is a sterile translucent emulsion containing propylene glycol, hydroxypropyl guar, mineral oil, dimyristoyl phosphatidylglycerol, polyoxyl 40 stearate, sorbitan tristearate, boric acid, sorbitol, edetate disodium, POLYQUAD* (polidronium chloride) 0.001% preservative, and purified water. It may contain hydrochloric acid and/or sodium hydroxide to adjust pH.