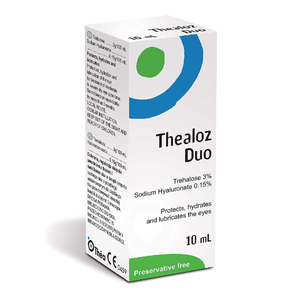 THEALOZ: HYDRATE. PROTECT. REGENERATE.
Thealoz® is a natural and preservative free artificial tear that helps regenerate the ocular surface while lubricating the eye for long-lasting relief.
Theoloz Duo is a preservative and phosphate free eye drop that hydrates, lubricates and protects the eyes. It is made of two active ingredients; Trehalose and Hyaluronic acid
Trehalose (3%) is a natural substance found in many plants and animals that survive in extremely dry conditions, which helps protect the eyes from dryness.
Hyaluronic acid (0.15%), naturally present in the body, is a lubricating agent that provides long lasting relief.