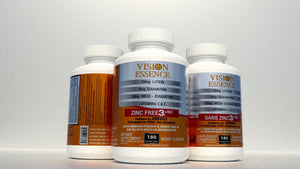 Vision Essence Zinc-Free3 is an alternative to the AREDS eye vitamins with several important modifications. This product contains no zinc or copper while adding 10mg meso-zeaxanthin.
This product is designed for intermediate stage/category 3 macular degeneration patients, not intended for early stage AMD- consider Early Defence instead. Take this formula if you've not performed a VitaRisk genetic test, or if your results indicate zinc may be harmful.
90 day supply bottle contains 180 chewable tablets, take 2 tablets per day.